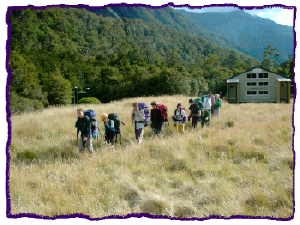 Scouts are young people from year 7 to 10 at school (about 10 to 15 years old) who want to make friends and develop widening interests in ways that are both educational and fun.
Scouts operate in Patrols which are encouraged to plan & organise their own activities in order to develop teamwork and self reliance. The patrol system enables Scouts to experience leadership.
A progressive award scheme enables Scouts to learn a range of new skills through working on personal challenges and group activities.
Our activities are about action and involvement and this means more than just camping.  Tramping, rock climbing, pioneering, canoeing, abseiling, putting on shows, electronics, photography – the list is endless!
Scouts are also given the chance to learn skills in survival, cooking and first aid. Every three to four years there is the opportunity to take part in a ten day National Jamboree with over 5,000 other young people.
The Scout Law
A Scout is loyal and trustworthy
A Scout is considerate and tolerant
A Scout is a friend to all
A Scout accepts challenges with courage
A Scout uses resources wisely
A Scout respects the environment
A Scout has self respect and is sincere
Scouts meet during term time 7pm to 8:30pm.
We have two Scout troops:
Monday Troop (Monday)
Tuesday Troop (Tuesday)
For details on St Martins Scouts please email :
---