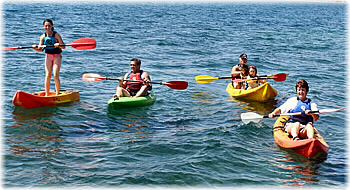 St Martins Scout Group owns and operates a fleet of canoes, which are available for hire for community groups and schools. The fleet is made up of 12 Sit-On-Top Kayaks, 4 Kayaks and 2 large Canadian Canoes.
The Kayaks are stored on two purpose built trailers and can be hired for use away from the scout facility. There is a launching deck at the rear of the Scout Hall for access to the Heathcote River. Groups will often use the trailers to take the kayaks upstream for launching, thus enabling them to be paddled downstream to finish at the Scout Hall. Paddles and Lifejackets are provided, and the 4 traditional kayaks have spraydecks.
The cost of hiring the canoes is extremely reasonable, and the group can provide Instructors through the Adventure Specialties Trust.
For details on costs and availability please call Amy on 379 9130
or email them at zn.oc1540294990.seit1540294990laice1540294990pseru1540294990tnevd1540294990a@hch1540294990c1540294990
The Adventure Specialties Trust is a Christian based outdoor education provider and works with schools, church groups, at risk youth and many community groups. Full details of their services are available on their Website